GIFs are so fun to share with others as they can add a sense of humor to any conversation. You can even learn how to make animated pictures on iPhone devices from your photo albums on your smart device too! There are countless third-party apps and even included features on the newest software updates of these smartphones.
On Apple smartphones, you can create GIFs from both videos and photos. Read below to learn more about the best tips, apps, and websites to create these designs. You will know how to animate a picture on iPhone technologies with ease by the end of this article.
Animate a Photo Via the Included iPhone Features
The newest software updates of ios devices come with a host of features that allow you to create a GIF. Many of the pre-installed apps help you with this goal as well.
iPhone began to offer these types of photos on the 6S. On the newer models and ios updates, so long as you are not in portrait mode, every picture you take is live.
A live photo is technically a video that is three seconds long. It even includes the sound in your environment when you took the picture! To ensure you are in live mode, just in case, however, consider the below steps.
1. Open the camera app.
2. Tap on the icon resembling a bullseye.
3. Ensure the badge labeled "live" turns on.
In ios 14, you can create a GIF from any live photo you take. All you need to use is the Photos app, which comes with every iPhone. The steps below will help you know how to animate a picture on iPhone technology using live images.
1. Open the Photos app.
2. Press "Albums."
3. Scroll to "media types" and click "live photos."
4. Click on the live photo you need, and swipe up on it.
5. Select "loop" or "bounce" to create a GIF.
A loop is a continuous replay of your live photo. It will last the entire three seconds aforementioned.
A bounced GIF shows the live photo forwards and backwards. It will repeat this motion continuously.
Shortcuts is an additional pre-installed app on iPhones. You can create GIFs via burst photos through this technology. To make these types of pictures on the newest iPhone, use the below steps.
1. Open the Camera app.
2. Tap the shutter button.
3. Drag the shutter to the left side of the screen.
4. If in landscape mode, drag the shutter button up.
5. Release the button when the camera takes enough pictures.
Shortcuts is available on ios 13 and 14. You can open the app by looking for the pink and blue logo labeled "shortcuts." When opened, use the following steps.
1. Tap on the search bar, and type "convert burst to GIF."
2. Click on the appropriate shortcut.
3. Press "run the shortcut."
4. Select the burst photos you need.
5. Wait for your completed GIF!
You can also learn how to make a GIF from a video on iPhone Shortcuts. You do not have to use a third-party service or a website!
The video you convert can be your own or any saved on your iPhone. Before you begin, you should know there is one additional step under the Settings screen of your smart device. When you get there, scroll down to "shortcuts" and toggle on the option for "allow untrusted shortcuts."
To know how to make a GIF from a video on iPhone shortcuts, you can use the below steps.
1. Open Shortcuts.
2. Use the search bar to type in "video to GIF."
3. Tap "Add shortcut."
4. Scroll down and press "add untrusted shortcut."
5. Select the "my shortcuts" tab.
6. Choose "video to Gif" to run it.
7. Press "ok" in the pop-up.
8. Pick the video you want to convert to a GIF.
9. Examine the preview, and press "share" to save your GIF.
You must know that you have to save the GIF as mentioned in the last step above for burst photos or videos. From the same "share" page, you can also send your creation via text or email, for instance.
Best Websites for Turning Photos and Videos to GIFs
There are plenty of mobile websites available to help you learn how to animate a picture online. Some even give you the opportunity to design your own picture online for free!
The easiest way to use GIFs.com is to upload a video to YouTube or Instagram, for instance. You have to copy and paste the location of your creation on the homepage. With this information in mind, you may understand that this website can only help you learn how to make a GIF from a video on iPhone browsers.
GIFS.com does allow you to upload a file from your iPhone to the website as well. There is a button under the URL box labeled "record or upload a video." This feature allows you to create the content for your GIF on the spot!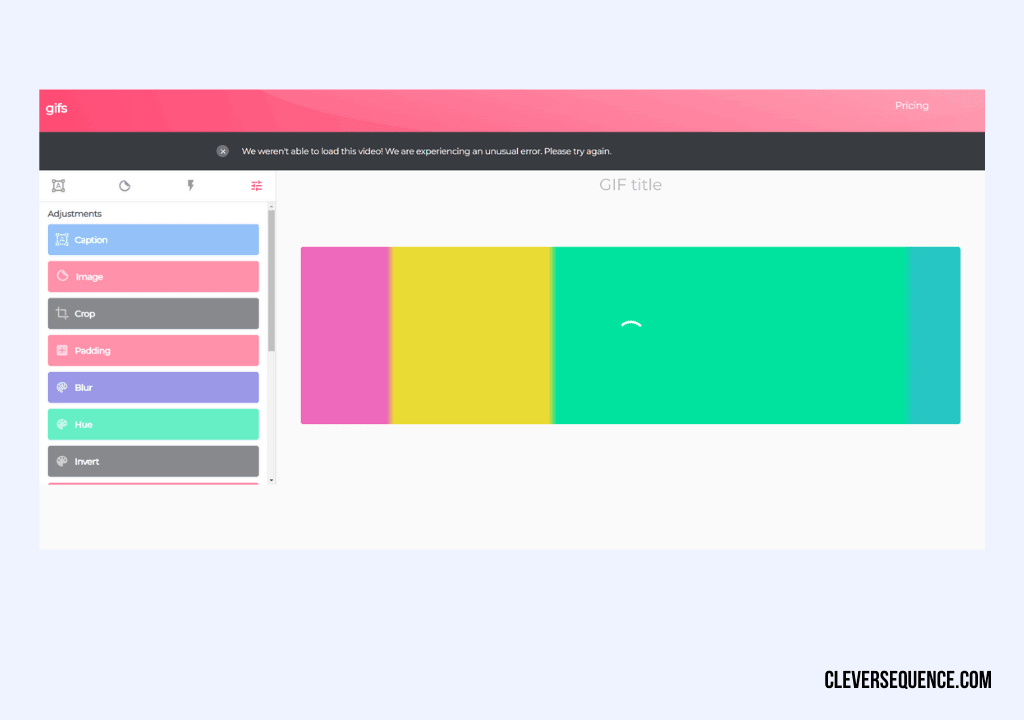 After uploading your video, if you choose this method, you will arrive in the editor. First, you will likely notice the timeline where you can select the appropriate frames for your GIF.
You can add captions and stickers to your created GIF to make it stand out on this website too! Plenty of effects are available, including Ping Pong.
When you complete the editing process, you are ready to share your GIF. Easily download your creation or copy and the URL right on the site.
EZgif.com is one of the most straightforward websites available on iPhones to learn how to animate a picture online. You can upload up to 2,000 photos and videos to make your GIF.
One of the top benefits of this website is the FAQ section. You can easily search for what you need help with, receiving your answer within seconds.
The editing capabilities of EZgif.com focus more on the technicalities of your GIF. Adjustments include:
Animation speed changes

Frame ordering

Resizing of the frame

Delay timer optimization
Finally, FreeGifMaker.me is another free option to create a GIF and design your own picture online for free. Click on "GIF from pictures" to upload anything that may exist in your iPhone photo album.
FreeGifMaker.me also allows you to link a YouTube video. Select specific frames to convert to an animation.
After you create your GIF, select the "GIF effects" menu. You can add stickers, put frames around your animations, crop images, and adjust faces.
FreeGifMaker.me is the most basic of all three websites mentioned. It is worth knowing, however, because of the YouTube compatibility alone.
iPhone Apps for GIF Creation
You may find it overwhelming to find the best GIF maker app for iPhone creations. The most popular free option is GIPHY, but many others exist, including paid alternatives.
As mentioned, GIPHY may be the best GIF maker app for iPhone users. There is a browser version available as well. It is user-friendly, and the steps to create your GIF are simple, as seen below.
1. Download GIPHY from the app store.
2. Open GIPHY.
3. Press the green camera on the top right corner that is next to the word "create."
4. Tap the photos icon on the bottom right corner.
5. Select the photos for your GIF.
6. After editing, press the purple arrow.
7. Click "upload to GIPHY."
8. Sign in to or create an account.
9. Click the three dots under your GIF.
10. Press "save to camera roll."
Rather than uploading photos to GIPHY, you can record from the app. Tap on the icon resembling a camera in the middle of the bottom of the screen. It will show up after you choose the "create" option.
GIPHY has extensive editing options to make your GIF unique. When learning how to animate a picture on iPhone apps, GIPHY is easy for beginners in the editing process. See the list of available customizations below.
Add a caption.

Put a filter on the image.

Insert stickers and art pieces.

Crop the image.

Reverse the GIF.
Believe it or not, Google Photos is one of the easiest ways to create a GIF through an app on your iPhone, and it is free! You can create what Google labels as animations using the below list.
1. Download Google Photos from the app store.
2. Open the app and sign in to your account.
3. Press "library," then "utilities."
4. Choose "create new."
5. Click "animation," and upload the appropriate photos.
6. Finalize the GIF by pressing "Create."
The GIF will save to your Google Drive automatically, and you can download it to your iPhone if you desire. Google Photos does not offer editing features for your animations, however.
MovePic's most basic edition is free for users who want to learn how to make animated pictures on iPhone apps. You can pay $1.99 a month if you do not want a watermark on your GIF.
After downloading MovePic, you only have to upload the photos you want to change. Standard features include:
Crop tools

Rotation

Animation speed controls
MovePic takes it a step further, however, in that there are a variety of enhanced effects. The app automatically recognizes the water and sky in your photos, for instance. This feature means you can enhance these parts of the GIF to look otherworldly.
You can also edit the white balance on your photo to more easily get the effect you want your GIF to have. Finally, you can adjust the video quality, though you need a premium subscription for 1080p.
GIFX is another app with a free and premium version. It will only help you when learning how to animate a picture on iPhone devices. It is only compatible with these Apple smartphones.
GIFX allows you to create GIFs from videos, multiple photos, or a singular photo. All you have to do is open it and upload the media you need after downloading the app.
GIFX is best for those who want a more artsy and sophisticated look to their GIFs. It is a viable option for social media content creators and even photographers, for instance. The app is not for those who want to create a meme or other funny content pieces.
GIFX has over 300 artistic masks available to premium users. These include effects, frames for your GIFs, and stickers you can put on top of them. Again, remember that some of these are only available for paid subscribers.
Make Your Own Animations on an iPhone
An iPhone is a powerful tool that has a variety of built-in features to help you create GIFs. The Photos and Shortcuts apps quickly provide a fun animation when you put your creativity to the test.
When learning how to animate a picture on iPhone features, you can also use a mobile website or an app. Many of these are free, though more premium settings are available on some. Bring your creativity to life by adding stickers, filters, and effects to your GIFs through these websites and apps.
Start animating today! You never know the content you will be able to create through any of the tools above.