I've worked on computers since the huge main-frame monsters in the basement with the Arctic air conditioning of the late 1970s. Ten years later I worked on microprocessors spitting out legal briefs. I knew how to create a new blank document in Word from experience.
Once upon a time, though, I stared at a blank black screen. We've made this step-by-step in-depth tutorial for you so that you, too, will know how to get a blank document to type on.
Opening A Document In MS Word
Before you can learn how to create a new blank document in Word, you have to bring up the program. There are several ways to bring up Word, but these two are quicker.
The first is to click on the Start button at the bottom left of your screen. It will look like a circle in which you'll see the multi-colored Windows logo. On some computers, the Start button might be a simple arrangement of four white windows. On other computers, the windows are blue. Either way, the logo is found at the bottom left of your screen. Tap on it.
Now hover the mouse over All Programs. You hover by rolling the mouse over the space holding the information you want.
A list will pop up. Scroll down using the direction buttons located on the bottom right of your keyboard or by using the mouse until you come to the Microsoft Office folder. Click on it. Now click on Microsoft Word 2010. You're in.
The second way is to click the Start button. Type a word in the dialogue box on the bottom right of your screen and tap the Enter button on your keyboard. The dialogue box is right next to the Start button, and looks like a strip of white or gray with an icon of a magnifying glass and the words "type here to search." A list of programs will pop up. When you see Microsoft Word 2010, click on it. You're in.
Steps To Create A Document In MS Word 2010
The program is designed so that a user will see a blank document ready for typing as well as a list of documents you've already typed. Our focus in this tutorial is how to create a new blank document in Word.
Step 2: Open A Blank Document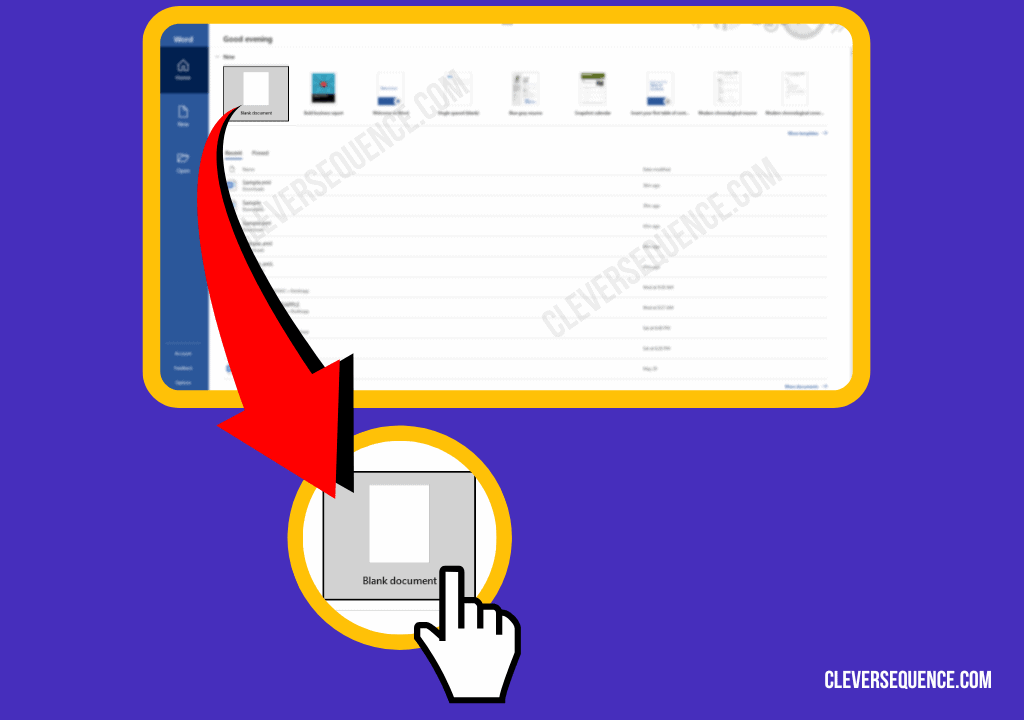 Now that you're in Word, you'll see a ribbon across the top of your screen. One of the words on the ribbon is File. Tap on it. A list will appear on the left side of your screen. It will offer choices of saving your document and other necessary things. You want to scroll down to New. Tap on it.
A screen will appear with templates, one of which says Blank Document. Tap on it. Now click Create, and a blank document will pop up. You're now ready to create your document.
After typing perhaps the title of the document or the first line of a letter, for example, make sure to tap on Save As and label your document. You'll find the Save button at the top left of the ribbon on top of the document. It looks like one of those old floppy disks from back in the day.
When you tap on it, it will ask you to save the document as-is or save it as a particular title for the document. Furthermore, as you're typing, it's a good idea to tap on Save every now and then. This ensures a snafu doesn't happen in which you lose all your work.
When you get into Word, you'll see the page on which blank documents are listed. There are several types, such as:
Text documents
Spreadsheets
QuickenBooks sheets for accounting
Letters
Resumes
Business cards
Greeting cards
and several more. We'll walk you through opening a free blank document to type on here:
Choose A Blank Document To Type On
Let's say you choose to type a resume. You know that you only have one chance to make a good first impression, so your resume has to knock 'em out. This means one page containing your name, address, phone number, and a small, concise message detailing what you can do for the HR manager's company, your skills, educational background, and work history. One-page resumes impress them more than six pages detailing every job you've had since you were 16.
There are several ways to type a resume, but only one that will capture the HR manager's attention. The elegant type of resume format combines all the above in a simple manner without distracting the HR manager. They're basic, simple, and guide the eye among the important information.
Now you know that you want the simple, elegant resume format, click on Resumes on the document types page:
Click on the simple format you want to use.
Click on Create. Now fill in your information following the format.
Save it and click on print. You're done.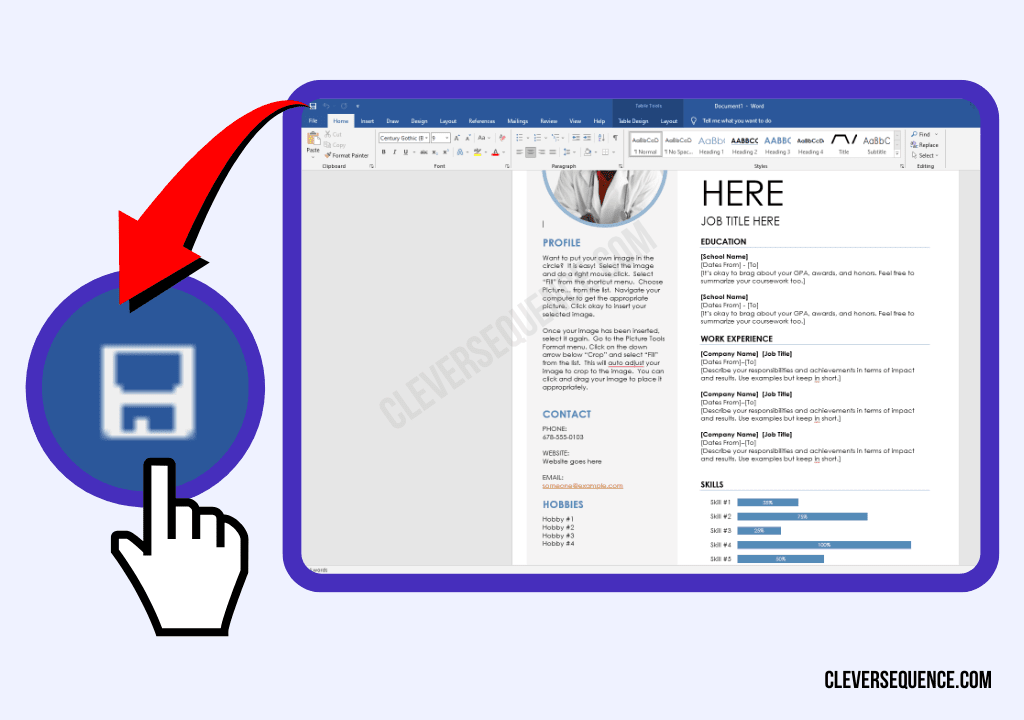 How To Create A Word Document Template
Many documents are the basis of future documents. Let's say you're creating a legal document. The header is quite distinctive. You'll be using this type of template for all court cases, so an important part of how to create a new blank document in Word is knowing how to set up a template.
You can start from scratch by writing the document with all its specifications centered in all caps (In The Superior Court Of Anne Arundel County State Of Maryland – John Doe v Jane Doe – on the left of the paper with a vertical line of stars or ending parentheses coming down between case number – date on the right side of the paper, as an example.) This is what's known as a header. This is what you'll use for future cases.
Tap on Save. You'll be asked to Save As. Tap on it. A list will come up with possible files in which to save your work. Tap on Templates. Now your header is saved for future work.
Template From Available Templates
You can always use Word's legal templates:
Click on File. The templates page will come up. Tap on the legal page you want. You can also type "legal" in the search box. A page of templates will come up. Look at the thumbnail images to find the page you want and click on it.
Click Download. You might get a message about Genuine Microsoft Office. Just click on Continue and your template will come back up. Enter your information and save it with the name of the case. You're done.
Blank Word Documents Tips And Tricks
The pandemic has come to mean that many of us work from home. Since there's no one to ask for answers to problems we may encounter, it's nice that there are tutorials like this one. Here are some answers to the intricacies involved in how to create a new blank document in Word.
Some documents are more than just your basic paragraphs. Take resumes, for example. Sometimes you'll need to know when to start a new paragraph or line. Look to the ribbon on top of the document. You'll see a "¶" symbol just in the center of the ribbon. If it doesn't look like that, look for Home or Paragraph Settings. Tap on one of them, and the symbol should appear.
If you're working on documents accessible by fellow employees (even if you're working from home,) you might want to password protect your work. No one will be able to read your work because they won't know the password.
Click File in the top left of the screen. Tap on Protect Document. Tap on Encrypt With Password. You'll be asked for a password, and there are no specifications on the word, numerals, punctuation marks, and such.
Note: Remember your password or write it down. There's no way to recover the document if you forget your password.
It isn't just for your smartphone anymore. Let's say you're working and the baby is screaming to be fed (or changed, or she's bored, you know what her cry means) at the same time. Word has this nifty button called Dictate. You'll find the button on the top right of the toolbar. Tap on it and talk. You might need to make edits when the project is done, but that's a simple matter.
Let's say you need to know how to spell a word you don't recognize or turn it into French. Usually, you'd just open a new tab, type in the word, and return to Word when you have your answer. This takes time, and it's distracting.
Simply highlight the word you need to spell correctly and right-click your mouse. Tap on Search. A box will open with the correct spelling or show the word in French.
How to create a new blank document in Word is a simple matter of three steps: open Word, choose a blank document, and create. Save your work. Remember that if you've lost this tutorial, there's a Help button on top of the page that will explain what you need to know.
Making your own template is a snap, too. Open Word, tap on Templates and choose the template that best fits your project. You can create one from scratch or use an existing template. Either way, you'll have saved a template you can use in the future. Happy creating!