Spotify is one of the best streaming apps available for desktop and mobile phones. You can virtually listen to any song you want to just by opening Spotify. Spotify lets you save specific albums to playlists for easy access.
Most of the Spotify features are free to use. You will have to listen to advertisements between your songs, however. This feature will only occur when choosing the most basic plan.
You can learn how to pay for Spotify without a credit card if you want a Premium account without giving out your personal information. Signing up for this plan will let you skip ads and download music for offline use!
Believe it or not, Spotify offers gift cards that you can use for your premium payments. Do note that you cannot use this form of payment for a student or military discount.
Redeem a Spotify Gift Card
To get started with redeeming your gift card, use the steps below.
On a mobile or desktop browser, scroll to

spotify.com/redeem

.

Log in to your account.

Enter the PIN provided on your gift card and the zip code associated with your account.

Check the box for the CAPTCHA code.

Press the green "Enter code" button.
You can also enter the code provided on your receipt when you bought the fifth card.
After you load the funds to your Spotify account, you can use them to pay for your premium subscription. When learning how to pay for Spotify without a credit card using this method, there is very little you have to do after the redemption process.
Spotify will automatically allocate the funds from your gift card first for your premium subscription payments. It will cover up to 18 months of these services. Once the money on the gift card runs out, however, Spotify will use any other funding source you have on your account.
Troubleshooting Common Payment Problems
If you use any of the methods in this article to learn how to pay for Spotify without a credit card, you may encounter several problems. This article will mention common troubleshooting tips if you face errors with PayPal, but other issues may show. Learn more about some you may encounter with a gift card below.
Incongruence with Other Discounts
If you have a Spotify premium student or military account, you cannot use a gift card. They also do not work if you are still in your trial period. You have to have a standard premium account for the gift card to apply to your account.
As you will see with PayPal below, the country of origin with your Spotify account and your gift card has to be the same. Where you purchased this payment method has to match the location you chose for your Spotify. If they are not the same, the gift card will not work.
Pay for Spotify Premium with PayPal
When you first sign up for Spotify premium, you can choose the payment options you want to use. Most will use a credit card as aforementioned, but some individuals may like to link their PayPal.
You can link your PayPal, as mentioned when signing up for premium. Follow the steps below to get started with this method of learning how to pay for Spotify without a credit card.
1. spotify.com/premium on a mobile or desktop browser.
2. Either sign up for an account or log in to your existing one.
3. Press "Start Free Trial."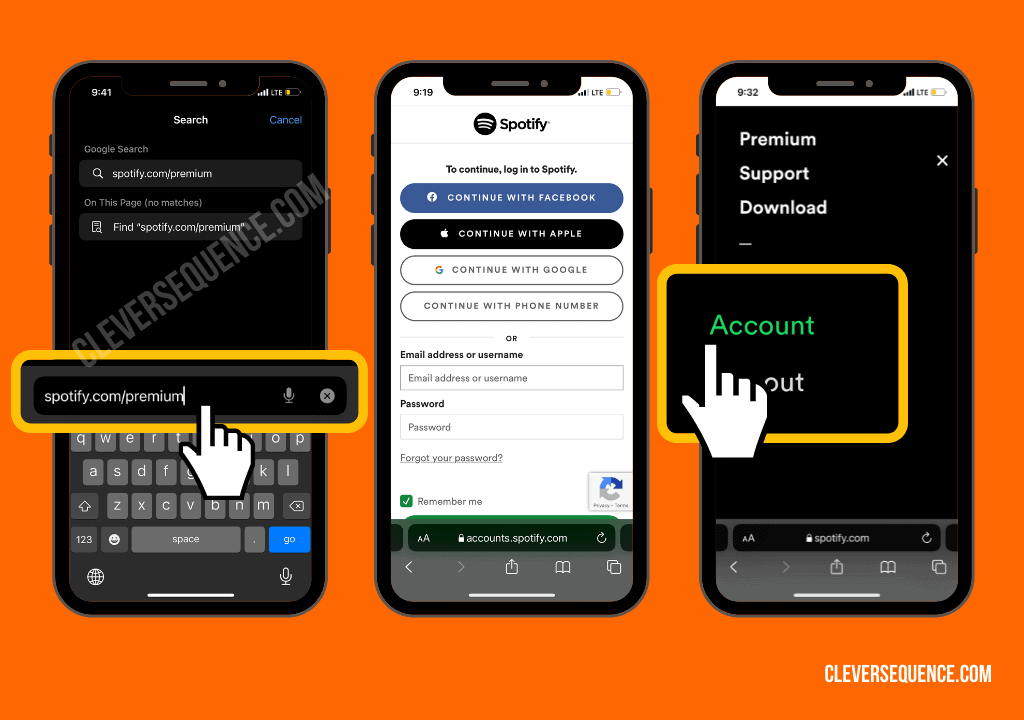 4. If you previously had a premium subscription, press "View Plans," or if not, press "Join Premium"
5. In the dropdown menu under "Choose Your Payment Method," select "PayPal."
6. Click "Start My Spotify Premium" or "Continue Purchase" 
7. Log in to your PayPal account and give Spotify the authorization to use your funds.
Troubleshooting Tips for Linking PayPal
After you link your PayPal and Spotify accounts, you will need to ensure the process worked. Start with the tips below. If these still do not work, however, try again on another day later in the week.
Match the Registered Countries
To link your PayPal and Spotify accounts, the registered country for each has to match. To check this information on your PayPal, use the steps below.
Go to

paypal.com

and log in to your account.

Click on "Settings."

Press "Manage All Addresses" to see the country associated with your account.
Technically, you cannot change the country associated with your PayPal account. You have to use the information you used when signing up. To update the country, you will have to start over and create a new account.
Spotify does allow you to change the country settings on your account, however. Unless you are already a premium user, you can only change the information for 14 days at a time. Make the edits outlined in the steps below.
Go to www.spotify.com and log in to your account.

Click "Edit Profile."

Go to the "Country" section, and select the new option in the dropdown menu.

Press "Save Profile."
Though this article discusses signing up for a Spotify premium account, you can permanently change the country of origin with one. You will have to update the payment method to one that has a registration in the updated location.
If you have an unverified PayPal account, you will be unable to link your Spotify and PayPal. To complete verification first, however, you have to enter your financial information. You can choose to confirm your bank account or your debit or credit card to complete this process.
Pay for Spotify Premium with Your Mobile Carrier
Spotify associates itself with most mobile carriers. You can automatically pay for your subscription with your monthly phone bill. To learn how to complete this process, use the outlined steps below.
Go to www.spotify.com/premium.

Log in to your account or sign up for a new one.

Press "Pay by Mobile."

Select your mobile provider, and enter your phone number.

Click "Continue."

Wait for the PIN to arrive on your phone via an SMS text message.

Type in the PIN, and press "Confirm."
Spotify cannot guarantee that every mobile provider will allow you to link your bills. You can contact the customer service team or your phone company if you have additional questions.
Change Your Payment Method
If you already have a Spotify premium account, you may have a history of paying with your credit or debit card. Now that you understand the methods listed above, you can change your payment plan details at any time. You will need to access an internet browser, then use the steps listed below.
1. Sign in to your account by pressing "Login" or create a new account by pressing "Sign Up."
2. Click on "Profile," then press "Account."
3. Scroll down to the submenu listed as "Your Plan" and press "Update."
4. When pressing "Update," you can change the method you use to pay.
5. Follow the steps listed for any of the methods above. Enter your new payment details as necessary.
6. If you want to downgrade from Spotify premium, you will press "Change Plan." This step will also allow you to create a student or military subscription.
Benefits of Spotify Premium
If you have a free Spotify account, you may wonder if it is worth it to use the methods above to sign up for premium services. These latter subscriptions, however, come with a variety of benefits, including those listed below. You should feel more confident about trying Spotify premium if you know you do not have to use a credit or debit card.
Unlimited access to over 50 million tracks

Downloadable music for offline access

Ability to listen to your music no matter where you are in the world

A lack of advertisements that interrupt your music

Unlimited skips so that you can always select the songs you want to hear most
Sign Up for Spotify Premium without a Credit Card
The information above should help you understand how to pay for Spotify without a credit card. You can use a gift card, your mobile carrier, or even your PayPal account to pay for your subscription.
There are several troubleshooting tips available for each of these methods if you do encounter errors, however. If you try to use PayPal or a gift card, make sure the countries of origin match to use them. If you use your mobile carrier, ensure your phone provider allows you to link a Spotify subscription.